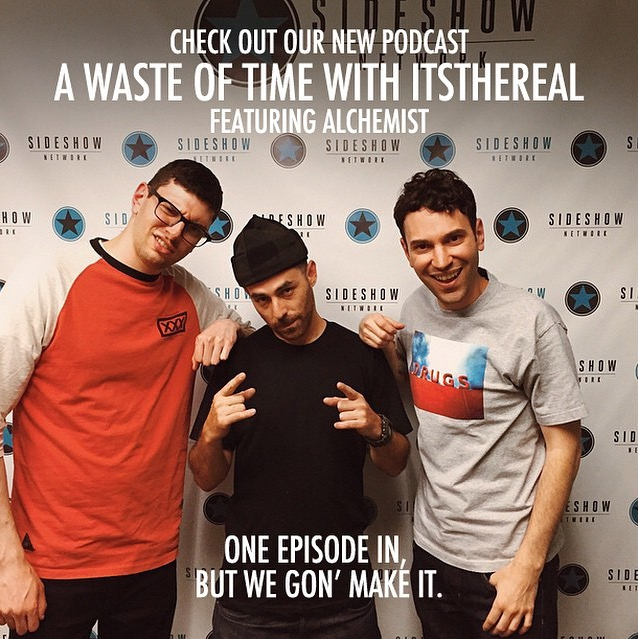 Alchemist was the first guest on the hip-hop comedy sketch duo ItsTheReal's podcast, A Waste of Time. I knew who the comedy group was. I've seen some of their comedy sketches. I also knew they were big rap fans, even though I questioned it in the past.
So when I saw they had a podcast with Alchemist, I knew I had to check it out. Alchemist is my guy. Plus, he has a good sense of humor, so I knew this was going to be an informative and funny interview.
This interview got me hooked on their podcast. I now listen to it almost every week. Their intro is fucking hilarious. Those gun sounds are hilarious. Joe Budden's reaction to those sounds say it all.
Here's a rundown of the stuff I jotted down about the interview. Most of it is informative as we learn about things throughout Alchemist's career.
Alchemist's studio/apartment has no food. He mostly eats out via an app, unless Action is there, Action has cooked for Alchemist before.
Although he doesn't have food at his place, he still buys and eats cereal and grilled cheese sandwiches.
Alchemist and Oh No knew they had a lot of leftover music from Grand Theft Auto V's score, so they pitched it to Rockstar to create Welcome to Los Santos.
Alchemist either knew or knew nothing about the artists that appear on Welcome to Los Santos.
All songs on Welcome to Los Santos were recorded in the studio, a rarity in today's time.
Alchemist and DJ AM would frequent L.A.'s Morongo casino when Alchemist was 18- or 19 year-old.
Alchemist lets us know that if you live in Primm, NV, you need to have a mailing address in neighboring Roach. NV.
Alchemist once took Prodigy's son to the Palms in Las Vegas. His son met Pusha T, who told P's son that he use to get money to Mobb Deep's music.
When he went on tour with Just Blaze for the beat battles, the Just Blaze/Rocafella catalog would destroy Alchemist. The crowd would go nuts.
Alchemist was close to giving Jay Z a beat. Alchemist, who is friends with Biggs and Hip Hop, both are friends of Jay, met Jay. Alchemist went to some club where they where at and Jay proceeds to tell Alchemist "to stop wasting those beats" by giving them to other rappers. Alchemist was ready to head to the studio, Jay was too but Jay never showed up. However, Freeway and Beanie Sigel did. The song ended up being a State Property record.
Alchemist met Hip Hop through DJ Premier.
He's learned that he can't ever Google his name. The novel by Paulo Coelho pops up.
Alchemist made "We Gonna Make It" for Nas, who wanted it. Nas never recorded anything over it. Nas affiliate, Nashawn did. Alchemist told him he was passing on it. Originally, Ras Kass had it.
After the Lox rapped over "Bring It On," Alchemist was introduced to Jadakiss. They met and Jadakiss was given a beat tape. On it was "We Gonna Make It," which Jadakiss laid his vocals on in front of Alchemist, who was blown away.
In the Nas versus Jay Z beef, he chose Nas, since he had worked with him before. Although he did say that "Takeover" was the better song, yet it didn't win the battle.
His friendship with Green Lantern is still intact, even after Lantern's departure as Eminem's DJ, and Alchemist coming along as the DJ.
Paul Rosenberg, who's Eminem's DJ, was also Alchemist early attorney, who hooked them up.
Eminem always tells Alchemist that he wants to hear his beats but it hasn't resulted in anything. Alchemist has no excuse as to why this collaboration hasn't happen.
Alchemist introduced Mac Miller to Eminem in Japan.
Alchemist mentioned that Scott Caan and Action Bronson have recorded material together. Action also has the first record with a reuniting The Whooliganz.
In all, the podcast was dope. They crack jokes and Alchemist provided some background to how his career came to shape.
(Photo Credit: ItsTheReal)